Chiavari Chair Rental is family-owned and operated out of Superior Township, MI. Dennis and Miriam have been local residents and respected business owners for over 33 years. They take great pride in being able to provide flexible personal service and will work with you to make your special event an unforgettable experience.
The Experience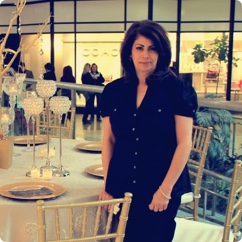 We know that any special event—especially a wedding—is not just about the big day. Many of the memories are made along the way, as you plan and pick out all the elements that will make the final result unforgettable. We're here to help make the planning a wonderful experience from start to finish.
When you work with us, we treat you as a friend. We offer a boutique rental experience, meaning that everything we offer is classic, carefully chosen, and put together to suit your individual taste.
We invite you to browse our showroom with no pressure as you decide on the look for your event. Have a seat with Miriam and discuss your needs over a cup of tea. She's here to help whether you have something specific in mind or are looking to discover something new. She understands that everyone has a unique style, and strives to create the perfect setting while allowing you to relax and watch your vision come to life.
Planning an event can be stressful. That is why we do what we can to alleviate that stress. We take care of delivery arrangements with the venue, and pride ourselves on punctual and smooth set up. Know that your chairs and décor will be delivered on time and in pristine condition. Many venues love working with us for our professionalism, and you will too!
Visit our Showroom
Our large showroom is filled with a bounty of unique linens, candelabras, chairs, charger plates, centerpieces, etc., allowing us to dress tables on site with a plethora of designs and styles to suite you taste.  You will be able to see exactly how your tables will look and feel in our showroom.